Introductory Talk Complete Video
Here I explain who I am, my beliefs and why I am doing this; besides giving you a brief explanation of what you will find in the first 24 Shared Teachings I have planned so far (subtitles in English available).
Please remember that happiness is not a search, it is not a goal you have to achieve at some point; it is just a simple decision you take every day and in every moment (3 Teachings + Conclusions in Premium).
Shared Teaching 1: Happiness is The Road (Complete video available since August 16th, 2021)
Shared Teaching 2: Realize Your Life is Today (Available on August 26th, 2021)
Shared Teaching 3: Let It Flow, Change and Adapt (Available on September 9th, 2021)
A Good Day Guarantee
Shared Teachings 4 to 6 - October 2021
When I find out that my whole life is here and now, is when I can focus to live the present moment in the best way possible and to enjoy every day to give me the gift of a happy life.
Dreams Maker
Shared Teachings 7 to 9 - December 2021
Having dreams will lead you to feel alive. Transforming your dreams into projects, will give you purpose. Working every day to fulfill your projects, will make you enjoy more the road.
Take Care of Yourself
Shared Teachings 10 to 12 - February 2022
There is nothing without health. We won't be able to be happy, if we don't have a support of health and wellness in our activities, our feeding and in our attitude.
The Love to Others Magic
Shared Teachings 13 to 15 - Abril 2022
Cuando creces y descubres que la felicidad está dentro de ti, entonces te das cuenta que el secreto de multiplicar dicha felicidad está en la ayuda a los demás.
Human Relationships
Shared Teachings 19 to 21 - August 2022
There is nothing more complex that human relationships. Beginning with couple relationships, passing by friendships and finishing with the interaction with our colleagues at work.
The Enemies to Defeat
Shared Teachings 16 to 18 - June 2022
To be truly happy in your life, you will have to defeat 3 enemies: Selfishness, Stress and Fear. Learn how to substitute your impulse and reactions, for a long-term satisfaction.
Invincible Parents
Shared Teachings 22 to 24 - October 2022
Here I explain why I think that in order to be a good parent, we have to focus first in growing internally, so we could educate our children with our own actions.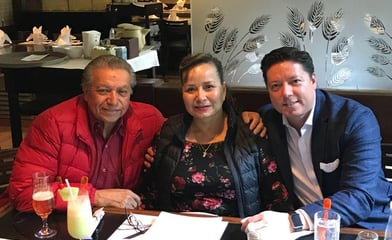 Gratitude
My infinite thankfulness, my eternal admiration and all my love to my parents, whom with their actions taught me that real happiness is in the help to others.
Due to them and for my kids, and for all the persons that seek to be a better version of themselves and therefore, a better role models for their kids through their actions, I share with all my love these teachings of life.
Contact
notasdevidaparamishijos@gmail.com

Follow me in Social Media
FB: notasdevidaparamishijos
IG: notasdevidaparamishijos